October 18, 2004
New baby orcas! Salish Seas Charters' Tom McMillan checks in with a report of new babies in the Sound:

Ian, There are two new orcas in L Pod. The Center for Whale Research made contact with them yesterday and confirmed it. One was born to L-43 about nine or ten days ago and the newest was born to L-27 in the past seven days.

They went north to the Fraser River last night and could end up going to the Seattle area as early as today. The scary thing is the oil spill down there. Let's hope they stay up here a few more days. I don't know the extent of the spill but it sounds like it is at least to Bremerton and they like to go at least that far this time of year. At any rate it is good news for our orca population as there could be as many as four more births this winter. It is also great news as both of these mothers are relatively old to be having babies. We were predicting about four births this winter and no one picked either of these mothers to give birth. L-43's daughter L-72 could also have one and is due. That would put 3 new babies in the L-7 family matriline under 1 year old.
Tom

Debates: I watched all three prez debates this year, and really think they oughta have a new rule: You gotta answer the question. It's a step in the right direction to have the question on the bottom of the screen, so you can tell he's talking about something else.
Dodging questions - gong 'em.
And if they don't say how they're gonna pay for it, gong 'em twice.
Sports rock: Whoa - the playoff express continues. The FHHS football guys thumped Concrete 39-6 on Friday to run their record to 6-0, while the FHHS soccer girls beat Concrete the night before 5-1, as they work toward sewing up second in league (they're 6-2 and 8-3 overall) and a playoff spot.
The FHHS boys soccer team hits the road for Shoreline Christian & Orcas this week, then finishes its dream season with two at home next week.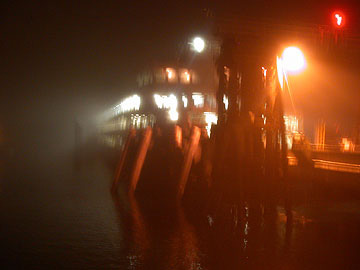 October 15, 2004
Fog rolls in: Yep, it was pretty fogged in yesterday morning down in the harbor, as you can see in this photo shot around five to six or so. Still, the ferries were close to on time, and the day, as always, cleared into a pretty day.
News from Roche Harbor: You probably thought things were slowing up at Roche Harbor this time of year...well, they are. But it's hard to tell because Chris Watling's dong a super job of keeping their new website's News section up to date.
What's new? Marcel & Ivana Radu had their baby (Daniel) recently, you can find out what Kevin Carlton's up to, who on the staff is taking off for the winter, and more.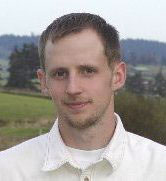 Friday Harbor Realty fires up another website: Looks like realtor Greg King over at Friday Harbor Realty just launched his new website - check it out!
Friday Harbor Realty was one of the leaders locally in getting into the Internet, launching their first website back in 1995. One of the earliest realtor pages was Diana Clark's cool San Juan Choice site, launched around that time and one of the longest-running sites around.
Soccer rolls on: The FHHS boys outshot LaConner by some 50+ shots last night according to Coach Ron Duke, but misfires & an inspired goalkeeper kept the visiting Braves close, as Friday Harbor won its eleventh without a loss 1-0. The swarming FHHS defense recorded its eighth shutout, making Felipe Lopez's goal at 27 minutes stand up for the win.
The secret for LaConner's success? Five of their stronger players returned to the team in the past week or so. The result - they beat a strong Orcas team and gave our tough squad a lot to handle. They may be the strongest team in our league to not make the playoffs.
With four games left in the season, the guys are poised to be able to post the school's first unbeaten season, if luck & skill holds. (I checked with Juan Lopez, FHHS' first coach & team historian - the best we've ever done, record-wise, is last year's 13-2 team.)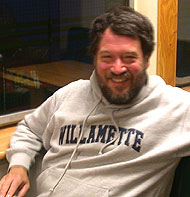 Dan's the man: It's always good to run into Dan Ward, the guy who's run San Juan Transit for over ten years now.
He's relaxed, now that summer's over, but is already gearing up for the next season, including finding ways to offer his bus & transit services to our friends on Orcas. He was on the ferry yesterday working on an Elderhostel trip for Randy over at Skagit Valley College. It's cool to know that so many of the visitors to the island have their first contact with Dan, who's always smiling.
Quote: "Treat the Earth well. It was not given to you by your parents. It is loaned to you by your children." - Kenyan Proverb

October 13, 2004
Political landscape shifts: I heard in the street yesterday that Independent commissioner candidate Tom Fenley has decided to withdraw from the Board of Commissioners' race.
That'll leave Ben White for the Green Party, Kevin Ranker for the Dems, and Ray Bigler for the GOPers still in the race with the vote 20 days from now.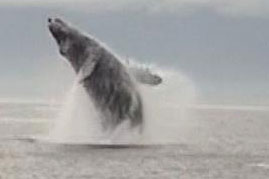 Humpbacks come to visit: Tom McMillen from Salish Seas Charters told me a couple of days ago he saw humpbacks over near Victoria. The picture at right was taken on that trip by Diana Pena - wow! There are more pix on Tom's site.
Changes: You may have noticed that she's not there - longtime teller Lynn Schuman has retired at Wells Fargo, with her last day (with cake) last week.
Meanwhile, you knew Mike Greene and Tamara had their baby in August, right? Welcome to Hannah Elizabeth!
Soccer bolts to the top: When FHHS played Mount Vernon Christian for its first win of the season, the match was a hard-fought 3-2 game that featured us scoring three after getting behind early.
Yesterday the guys reversed the order, scoring three early and sticking MVC with only its second loss, winning 4-0. The Wolverines scored early, as Eric Rothlisberger tapped in a shot to the lower left with only nine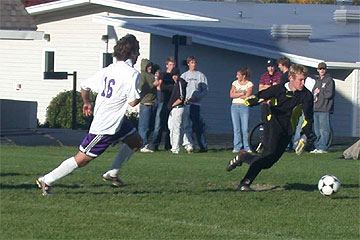 minutes gone, followed by Felipe Lopez's breakaway goal (left) only six minutes later. (Eric's shot made me realize which end of the field I should shoot pictures from. I was ready for a defensive battle...)
Two minutes after THAT, Johannes Paul floated a sweet lead-cross past the MVC defenders that team leading scorer Mario Nunez herded into the net. Nunez added a tally in the second half to set the final score. Here is a gallery of 40+ photos from the game.
Are we the real deal? The team (10-0) has only allowed four goals in winning ten games, and appear to be unstoppable as they continue their run through the rest of the schedule, playing teams they've already beaten this season. Snakes in the grass: LaConnor, whom we beat earlier but was missing a few now-eligible players, and tough Orcas, which wants to end its season in two weeks on a high note by knocking us off.
FHHS soccer girls roll on: The girls are doing quite well, too - they re-beat Seattle Lutheran this weekend 4-3 to run their record to 7-3 on the year. While our unbeaten football squad and possibly unbeatable soccer guys are grabbing the headlines, the girls are quietly notching the wins that could carry them deep into the playoffs as well. Keep your November free...
Meanwhile, the football team travels to Concrete Friday night...should be a tough one. I think "concrete" comes from the Latin word for "hard."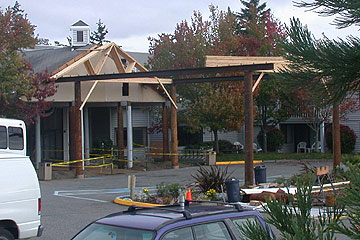 Writers, unite! Did you notice that Cinda Sue & Susan at Lexicon Symposia have added a couple more workshops for next year? Check 'em out.
I'm not sure, but I think "symposia" is Latin for "really cool writing conferences." Look it up.
Cover-up exposed: It's true - here's proof (right, in a photo by Shay "Scoop" Byington) the Friday Harbor Suites ARE covering the entrance to the place.
When complete in a couple of weeks, guests can be dropped off at the door without getting wet when it rains. Nice touch.
Quote: "Those who desire to give up freedom in order to gain security, will not have, nor do they deserve, either one." Benjamin Franklin (1706-1790)

October 11, 2004
Weekend rocks: What a pretty weekend for the middle of October...the rain clouds parted early Saturday and gave us weather to go out in.
Pretty cool....with the Battlefield Band playing and the contra dance at the Grange revvin' back up and sports all over the place, it was a busy, fun weekend.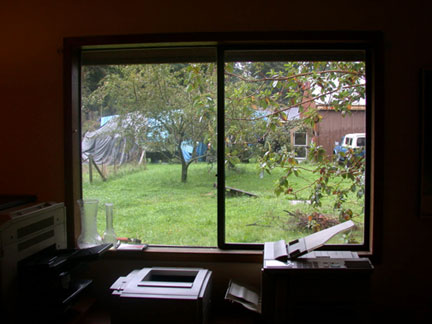 That's a picture out my office window of the apple trees in the back yard. Garden to the left, my friend Scott's boats in the back. Pretty day.
Here & there: The Taylors are back - Greg and Jordyn moved back to the island in August from Alaska, where they've been the past few years, while Judy tied up loose ends. She came back last week...they tell me they're here to stay.
Lisa Johns tells me her husband Justin's back this week, too, from Alaska where he runs the Fishing Bear Lodge...Kia & Conner are ready to see their dad, too.
Meanwhile, assistant librarian Laura Tretter is taking off this week to head to Iowa to run the Des Moines Marathon on Sunday. Go, Laura, go!
Good to hear Dave at the wine shop's mom's doing better down in Florida.
Full up: I know you were wondering - the "Shark's Tale" movie was full on Saturday for its 4:15pm show.
Every so often, people ask me - how can a movie theater make it on the island? Answer: A lot of people go to the movies. Duh.
We like our theater.
Quote: "If there is one principle more deeply rooted in the mind of every American, it is that we should have nothing to do with conquest." - Thomas Jefferson (1743-1826)

San Juan U-14 Boys Ambush Burlington 5-2: The first two times San Juan's U-14 boys soccer team met Burlington this year, the games played out like last year's championship game between the two teams - tight.
San Juan won the season and tournament in 2003 with a 1-0 victory, and played Burlington to 0-0 and 1-1 ties earlier this season.

But the home team struck early and often in beating the Strikers 5-2 last Saturday. San Juan scored only three minutes into the game as Pablo Lopez nailed a 30-yarder over the outstretched keeper, followed by a perfectly placed header to the left corner by Jordyn Taylor (right, with ball in yellow, helped by Zach Milkis, #3) off a Lopez corner to make the halftime score 2-1.

The second half featured another long distance goal by Lopez, mailed in from 35 yards, with two goals added by Cameron Byington, including a head-flick off a Lopez free kick just inside the left post. Although Burlington scored late, the game was controlled for most of the second half by the locals.

At the halfway point of the season, our eigth graders are 2-1-1 in league, and have played an additional five "friendly" matches for experience, including a 5-5 tie with the Friday Harbor High Junior Varsity last Tuesday. The team travels to Anacortes Saturday.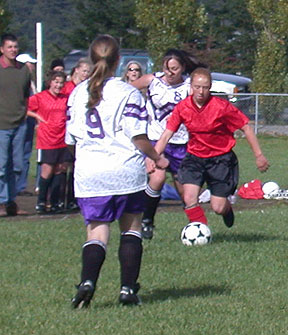 Meanwhile, the U-14 girls played a friendly with our FHHS JV girls, with the older girls slipping by 4-1.
That's Mariah Paterson (red) challenging FHHS' Anna Ware in the second half.
Playoff chances on the line this week: This is the week that could write the ticket for the FHHS soccer and football squads, as both undefeated teams play tough opponents.
The soccer boys (9-0) take on Mount Vernon Christian (9-1) here tomorrow at 4:30. The teams met in the season opener with FHHS winning 3-2, and both appear to be the creme of this year's league's crop. See ya there. Come support a champion.
Meanwhile, the unbeaten football guys won again over the weekend, but face a stiff challenge as they take on Concrete at their place on Friday night. Last year's muddy 6-0 win over Concrete here was the first in a couple of decades - it's probably time to make it two in a row. Good luck, guys!
Roberta moves on: Roberta Crist has told the Island Rec folks she's moving with her husband Clinton to Stevenson, Washington after living here over thirty years.
Besides running Great Getaway Travel since 1986, Roberta has served as an Island Rec commissioner for the past ten years, and also spent ten years as president of Little League, as well as working as a docent for the San Juan Historical Museum as a volunteer Italian teacher at the High School.
I know from my personal experience with both baseball (when I coached) and Island Rec (I help, sometimes) that Roberta runs a tight, smooth operation that's organized and positive. Her energy and enthusiasm will be much missed and impossible to replace.
Roberta tells me she'll still run Great Getaway remotely, and says if anyone wants to call her all they have to do is dial the 800 number.
October 8, 2004
We love reading about ourselves: There were three travel articles in the Atlanta Constitution about us and the area recently, SJIVB PR maven Robin Jacobson tells me. There's a story about Roche Harbor (click here to read it), another about what to do here, and one about wildlife here. Check 'em out - mostly true.
Look, ma, no appendix: In the last couple of weeks, Jesse Littleton (he's the guy who fixes my car) and Diana Asher both had their appendix taken out. When stuff like that happens here, people are usually flown over to the hospital, as both of these were. They're doing fine, now...
Coming events: FHHS science teacher Marc Vermiere and his wife Deb are expecting their first next month - they'll be great parents. Meanwhile, Tracy Cumming Anderson is scheduled to make Jim Cumming a granddad again, a role he'll excel at.
Visitors' Bureau offers forum: Yesterday the San Juan Island Visitors' Bureau held their biannual (that's 2x a year) membership meeting, with a review of the good work Deborah Hopkins and her gang have been up to, as well as a chance for the six County Comissioner candidates to take some questions in a forum.
Anyone expecting sparks to fly just doesn't know these guys - these are six bright, involved citizens who've thrown themselves into trying to help look after our islands. Most emphasized the need for the BOCC to get along, and seemed to be ready to practice that, already.
There were new ideas - what about a visitors' center in Anacortes for us, to help people get prepped for their trip here? - as well as the expected support for keeping the visitor promotion efforts of the SJIVB going.
In the photo, from left, that's Ray, Tom, Kevin, and Ben (for District One, the "San Juan" seat) and John Evans and Alan Lichter (for District Two, the "Orcas" seat).
I believe former candidate Ralph Hahn is preparing some remarks for the San Juan Islander about his impressions of the forum and the direction of the race....meanwhile, make plans to attend one of the more extended forums next week, and get ready - the election's closing in.
Champs in the making: Looks like FHHS football coach Richard Ledford's back to coach the guys the rest of the way, if he can...as reported earlier (see below, somewhere) he's got an operation scheduled for the end of the season, but there's been some concern he may go in early. He went to Georgia for testing, but he's back now...
Meanwhile, the boys continue to pile up yards, points, and wins - they appear to be a force that will be difficult to stop this year on their way to state. They play tomorrow...
Meanwhile, the FHHS boys soccer team made it 9-0 with a 7-0 victory over Master's Touch last night, as they continue to cobble together THEIR run at state...they haven't lost this year, and continue to wear people down with their passing and late-game fitness. The next big game: Tough Mount Vernon Christian (8-1) comes to try to knock our boys off their perch here next Tuesday. In our closest game this year, we beat them 3-2 a month ago. That's Tuesday at 4:30pm.
Meanwhile, the girls soccer team ran their record to 6-3 with a nice, balanced win over Snohomish County Christian last night. Jenny Guard & Shay Hopkins scored while Anna McClasky amazed in goal for the shutout in what I believe was the best game I've seen her play these past two years. Way to go, girls!
September 30, 2004 (later that day!)
Lights out: The electricity was out today from right before lunch till about 2:30 or so. That's pretty cool, on a day that's warm and clear and otherwise nice outside. Kinda like a snow day from school, only warmer & less responsible.
So I went downtown to see what was going on...mostly it was as you would expect. People walking around and nobody getting much work done. I saw one friend who was halfway through a haircut come along - she said she go back later & finish. The Golden Triangle was still serving, so I went to visit them & that was good - they seem to always have plenty of good food.
Ran into a friend who said it was probably Mt. St. Helens blowing up, so I immediately checked this webcam of Mt. St Helens when the juice came back on. The word is that one of the transformers in Anacortes blew up or something, which means probably all the islands were out.
But we're back on, now.
September 30, 2004
A new day for Rocky Bay: Here's a shot of what the new sign looks like at the Rocky Bay Café, which until two days ago was the Donut Shop...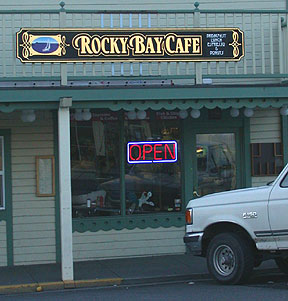 You know how it is here...everything's known by its old name. The Hungry Clam is located in the old Roberto's spot, and Bella Luna's where the old Electric Company used to be, and Haley's used to Ford's which used to be...this could go on.
So drop by the Rocky Bay which used to be the Donut Shop & tell Monica and Jacoba howdy.
Back: Got a note from Jackie Reiff, Western Prince Ivan's wife, who's been doing some education-work in San Diego. The former FHHS PE teacher & cheer coach says she'll be back on-island next month, and misses everybody.
Away: Looks like the folks at the Sweet Retreat are gonna close a week for next week, as everyone takes a vacation after a busy summer. As far as I know, Roy's, Warehouse Coffee, San Juan Coffee, and everyone else will be open to cover your java fix.
Quote from Will Rogers on the eve of tonight's Presidential "debates": "It's not a disgrace not to be able to run a country nowadays, but it's a disgrace to keep on trying when you know you can't."
Another quote: "You're not to be so blind with patriotism that you can't face reality. Wrong is wrong, no matter who does it or says it." - Malcom X
Other quote: "Hang on tight - it's gonna be a bumpy ride!" - Bette Davis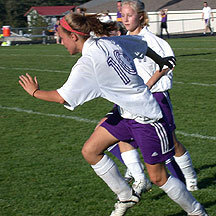 September 29, 2004
Hard, but not that hard: We'd heard that Concrete was hard, but Lillan & Jenny (right) and the FHHS girls chipped away at them to win 7-1 to pick up their fourth win in six games with a well-played, complete team effort last night.
Here are a bunch of pictures I took while there...the girls travel to LaConner tomorrow for their next match.
September 28, 2004
The fog lifts, the sun shifts, she moves on: After a very foggy weekend that featured nothing but ferry delays, things have cleared up the past two days & it's beautiful out. Lovely fall days on an island.
Blow: You heard about all the little earthquakes at Mt. St. Helens, didn't you? Looks like it's about time for her to blow off a little steam, sometime soon.
On the high seas: Dennis & Cindi Roquet have just taken off this month aboard their boat, the Sea Bear, for what looks like a five-year tour that'll take them around the world. Their boat is for charter, as part of their trip....
Speaking of around the world, Jan & Dan Fogle from Friday Harbor Yachts just got back from doing yacht-selling biz in China.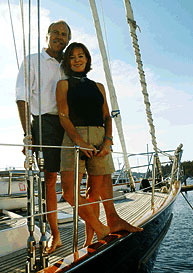 But that's not all - Bill & Chris Carli took off on Sunday for a couple of months in Italy - I saw them down at the ferry dock waiting to walk on, and they had that "I-just-sold-my bed-and-breakfast-and-now-I'm-free" look. After 20 years, they deserve it. Arivaderchi!
Speaking of around the island, you heard Charli Schmidt won this year's 20th Annual Becky Barr/Einar Nielsen Memorial Fishing Classic...the FHHS volleyball player landed a 38+ pounder for the winner.
Moving on: I hear Laura Concord's moving on after working at the Theatre for a spell that adds up to a long time...she's done outreach stuff and volunteer organizing for a good while, and will be much missed. I think it's cool, though, because now she can try out for more plays and singing gigs - I figure anything that frees her up to do more of that is good for us all.
I hear Chance from the Theatre's moving on next month as well. Merritt's got a tough job replacing those two...
Quote: For perfect love casteth out fear, and fear can only be from the material things that soon must fade away. And thus hold to the higher thought of eternity. For life is a continual experience. - Edgar Cayce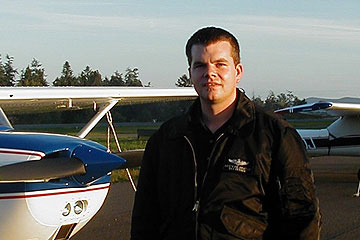 Fly! There's a special to fly around here - from October 15th through January 3rd, you can save $50.00 OFF round-trip air fares or $25.00 OFF one-way air fares between Seattle and Friday Harbor.
Meanwhile, Dan DeShon's starting his private pilot ground school on October 5 - tell him (left) you heard about it here, and maybe he'll give me a ride.

Skin of the teeth: There's an Open House to welcome new dentist Michael Horn to the island on Friday from 11am - 2pm. He bought Mark Fleming's practice on Spring Street, and will keep the same staff, as Mark kicks back to hang with Jen & the twins.
Meanwhile, over at San Juan Health Associates, there's an Open House tonight for Mark Fishaut, the new doctor who's been coaching the U-14 soccer girls and assisting Doug with the FHHS soccer girls.
Changes: Bill & Monica tell me they're fixing to change the name of the Donut Shop, which they've been running since early summer. Later today they're going to put up the new signs, and from here on out they'll call it the Rocky Bay Café. Bill mentioned they just started their new menu as well...
Changing hands: I've run into Stephanie from Lakedale and Farhad from Harrison House this past week...it appears that the sales of their respective properties are going well....Stephanie mentioned she & Jack have been out there 15 years. They've done a super job, if you ask me.
Presidential debate: There will be a Debate party at the Dem HQ on Thursday, Sept 30th starting at 5:00 p.m. People are encouraged to bring their own food, drink, plates and utensils, and a plate of something for the group, if convenient.
Sports update: Many, many things went right for sports on the island over the weekend:
Our football guys ran their record to 3-0 and looked dominant in their 34-7 win over LaConner Friday night. They ran the ball in for two scores the first two times they could, and never looked back after that. Execution, enthusiasm, energy, and excitement - they're a fun team to watch and cheer for. Speaking of which, it was really cool to see fans lined up 4-5 deep all along our sideline, from endzone to endzone, with the stands and the side of the hill full as well. The boys are well-supported, and deservedly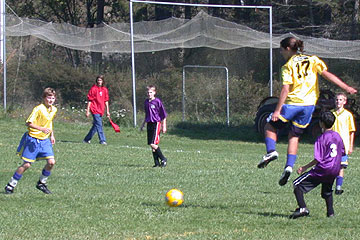 so.
The FHHS soccer girls hosted Seattle Lutheran on Saturday, and managed to turn a 0-0 halftime tie into a 3-0 victory and a 3-2 record as they seem to have resolved some of their early-season defensive puzzles. The girls dominated play, and controlled both ends in the second half. They play today at 4:30 for their last home game for a while.
Meanwhile, the boys did the best thing they could to keep their unbeaten record intact - they didn't play. But you can only put it off for so long, so they took on the visiting Snohomish County Christian guys yesterday, and found little resistance in a 15-0 win. Next up: The unbeaten 7-0 Orcas Vikings come to play here on Saturday at 12:30pm. Should be a challenge that will help us chart our course for the playoffs....
On Saturday, the U-14 boys thumped the Anacortes Strikers 7-4 to remain unbeaten on the road to see a tough Conway squad this Saturday. Six San Juan kids scored - Peter Duggins, Pablo Lopez, Cameron Byington, Grant Schwinge (2), Jordyn Taylor, and Cody Price (above left) - for a 7-1 halftime tally. That's Pablo in the air in this picture by team photographer Denny Armor.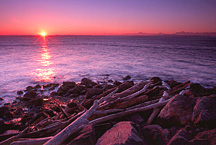 September 24, 2004
Clearing after equinox: After a mucky few days, things seem to be clearing up as the days begin to shorten after equinox... hurry, get outside & play.
Quote: Being deeply loved by someone gives you strength; loving someone deeply gives you courage. Lao Tzu

Hitched: Keri Eathorne who works down at the Town of Friday Harbor offices tells me she and her sweetie Jeremy Talbot are setting aside time early next summer to get married - congrats!
Coach for the ages: We've been pretty lucky to land Richard Ledford to teach at FHHS and coach our football guys...the Seahawks named him coach of the week last week, as the boys play their first home game tonight. It's a promising start for the 2-0 Wolverines. After the season, Coach Ledford has scheduled some medical time off...hopefully, some time in the playoffs will help put off all of that. Good luck!
Memorial: There's a memorial being planned for Keith Hays for Monday at 4pm at Roche Harbor...if you didn't know him, here's a little write up & picture about our friend, who we're missing so much.
Weekend Work Party at the Salal Neighborhood: Affordable housing works like this:
There's a Work Party this weekend for the San Juan Community Home Trust's Salal Neighborhood! Come help complete this permanently affordable home ownership project at 415 Carter Avenue on Saturday and Sunday from 9:00am to 5:00pm. Work this weekend includes finish grading, landscape bed preparation, and construction of porches and entry decks. Please come prepared with work boots, gloves and clothes; and tools if you have them. For safety reasons please leave loose clothing, children and pets at home. Parking is available on Carter Street only - please do not park in neighboring parking lots! For more information contact the Home Trust office at 378-5541 or Board Member Ann Harris at 378-1663.

The Home Trust thanks the San Juan Island community for all the support and many contributions that have made the creation of the Salal Neighborhood possible!
Soccer rocks on: Hank Schuman (right) and the boys beat Shoreline Christian 4-1 last night to run their season to 5-0 on the year, with a home game here on Monday with Snohomish County Christian set for 4:30pm.
I was there, so I shot a zillion pictures so you could see what the guys look like in action. Check 'em out.
Girls soccer pictures: Yep, I got some of them on Tuesday, as well - here's a collection of the girls playing hard in their 5-4 victory. They play tomorrow at home at 11:30...see you there!
Last quote: "I really can't see any advantage to having one of your party in as President. I would rather be able to criticize a man, than to have to apologize for him. " - Will Rogers
September 22, 2004
Soccer rocks: The girls soccer team evened their record at 2-2 for the season last night with a strong 5-4 thumpng of Snohomish County Christian. The girls got a hat trick from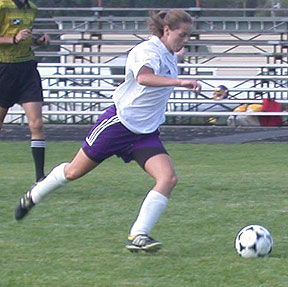 Shay Hopkins (left), who also assisted Lillan Roquet and Elena Porten for the other two tallies as FHHS controlled the offensive end of the field for most of the game.
Football road warriors come home: The FHHS football guys won their second straight last weekend by a 55-14 score, which means they've scored over 100 points in their first two games as they head into Friday's home game.
Unbeaten soccer rolls on: The FFHS boys strolled by LaConner 5-0 last night to run their record to 4-0 for the season & remain on top of their league. The Seattle Times said something about expecting to see these guys in the playoffs this year -- I'd say, get your tickets early. They look good.
Meanwhile, our soccer JVs (coed) beat LaConner last night as well, while our volleyball girls played hard but came up short in their match with Darrington here yesterday afternoon.
And now you're up to date.
Island Studios Annual Open House: It's this weekend from 1-5pm on Saturday at Island Studios on Spring Street. Pat Lawrence told me, "Stop by to see demonstrations by our studio artists and enjoy the music of the jazz band Roseblade."

Passing: I just heard that Keith Hays died yesterday. Keith had lately been working a lot out at Roche Harbor...I knew Keith as a dad who came to nearly all of his son Zack's basketball games who was involved, full of ideas (I was the coach, so I'm always looking for ideas) and enthusiasm for the kids and what we were doing. He'll be missed.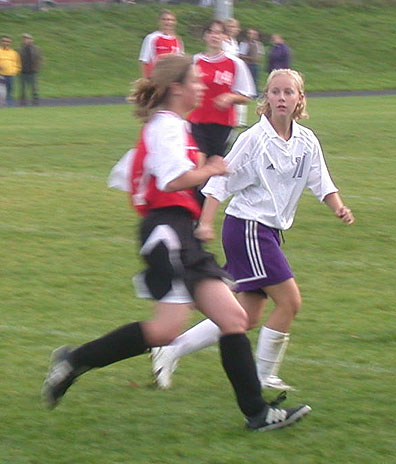 September 17, 2004
Election mania crests: Well, it's all over but the shouting....the EMS & Island Rec levies passed, showing the good sense and good heart of an island which wants to take care of its people and provide good programs for its kids. Good job!
Meanwhile, the commisioner races tightened up from seven candidates to four: On the GOP side, Ray Bigler, who ran Friday Harbor Grocery till it burned down in 2002, turned aside former FHHS principal Ralph Hahn's strong bid, as well as Daniel Miller.
On the Demo side Kevin Ranker won the party nod over Wendy Stephens. Independent Tom Fenley and Green Party candidate Ben White were unopposed, so the four move on to the November ballot.
Mud & glory: Last night the FHHS soccer girls swept away new league member Coupeville 5-0 in a match that was never particularly close. The win sweetens a young Wolverine season (1-2) which began with a couple of losses in which the girls outplayed their opponents but weren't able to outscore them. The girls (including Jenny Guard, in white to the right) take on Snohomish County Christian next Tuesday here - come watch them play.
Meanwhile, the soccer boys are on top of the standings with a 2-0 record after muscling past Mount Vernon Christian on a wet field Tuesday, 4-3. They're next in action Saturday at Grace Academy at their place , which is located somewhere in western Washington. See you there.
Our football team takes memories of its 47-0 whupping of Highline to Granite Falls for this week's game. The state-ranked Wolverines appear to be the stongest squad we've had since the Elliot Pemberton-led playoff teams of the late '90s, with great tings ahead of them.
Meanwhile the eighth grade soccer boys finished their pre-season with a well-played 4-3 loss to the co-ed Wolverine JVs on Wednesday. The defending league champs (that's us) take on Burlington in America on Saturday.
Quote: "I can light a candle because I need a light, or because the candle represents the light I need." - writer Christina Baldwin.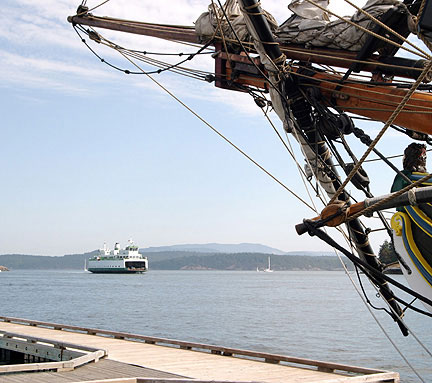 Port pictures: You know, capturing the spirit of a place with photographs is a gift, all the more rare as we see occasional good pictures among the zillions generated by digital cameras everywhere.
One person with the gift is Port of Friday Harbor director Steve Simpson, who took a raft of really good, well-framed images of life around the Port's marina. You can see them here and here...makes you feel like you're down on the dock.
More pix on the web: Did you know about islander Barbara Cox's collection of photos you can buy on the web? She has The New York Times
Photo Archives from the past 100 years, as well as the Mahatma Gandhi Archives, and photes by Phil Borges, Chris Rainier, partners Carol Beckwith and Angela Fisher, Valdir Cruz, co-photogs Hansel Mieth and Otto Hagel, and Alfred Wertheimer. She has assembled an impressive if eclectic array of work that captures a broad range of history, people, and culture. Check it out - I think you'll be as impressed as I was.
National politics play out on the island: As the presidential candidates continue their contentious run for the nation's top spot, the county parties are putting in their two bits as well. The Republicans offer their views on their website, which includes a test you can take if you're not sure what you are, party-wise.
For the Democratic worldview, the easy & neighborly way to find out more about the party's platform and candidates is to drop by the Democratic Cafe located in the old Springtree Restaurant on Spring Street in Friday Harbor.
Meanwhile, former At Home publisher Victoria Compton got photos of the banner below into several national news mags as she orchestrated part of the protest at the Republican National Convention earlier this month. Currently in school in New Jersey with about a year to go, Victoria has kept contact with friends here on the island and explains more about what the banner is talking about.
Primal Quest starts the 19th on Orcas: This is a big-time, 400-mile endurance race for co-ed teams of four, which will be held this year on Orcas Island.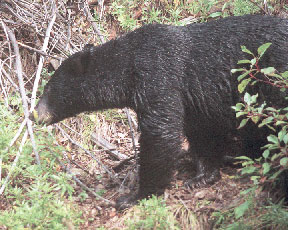 What is Primal Quest, exactly? Read here about this event which will be featured in a two-hour show on CBS in January, right before the AFC Championship Game.
From the mailbag: Old islander Pierre LaBossiere dropped a note from a trip he took:

I just got back from spending a week backpacking in Glacier National Park. See this black bear I ran into on the trail? Isn't he cute? He was eating huckleberries. I also ran into three other black bears, a grizzly, a moose and two mountain goats, but none of them got as close to me as this bear.
This is near "The Garden Wall," which is also the Continental Divide. I hiked to a chalet 4 1/2 miles straight up a switchback trail to get to this spot. The chalet was full of mountain bunnies.
Writers of the world, unite! There are some pretty cool writing workshops coming up early next year on Orcas and San Juan, offered by Lexicon Symposia. Organizers Susan and Cinda Sue have just posted the latest on their website, with more to come. Check it out, and get writing.
Speaking of world writers, islander & FHHS grad Nicky Rigg just wrote that she's back in China for her second year of teaching there.
Ferry sched goes lavender: Pelindaba's influence widens... The Fall 2004 Sailing Schedule begins Sunday, September 19, 2004. The WSF says, "The new schedule, #194, is lavender in color and is available at all terminals." Personally, I think the WSF should print on lavender-scented paper, so the terminals would smell as nice as the store down on First Street.

Also of note for walkers: Paid parking at the Anacortes Terminal ends after Sunday, September 19. All parking is free again beginning Monday, September 20.

Fix that cat: Catspaw Foundation's Kathy Farron dropped me a line and asked that I tell you about this: "Our Fall FREE for cats only spay/neuter clinic has been scheduled for the week of October 11-15, 2004 in Friday Harbor. This is by appointment only and space is limited. For an appointment, please call CATSPAW at 360 378-9430. Leave a message. Your call will be returned in the order in which it is received.
From the song: Most of you know I'm from Alabama, with a stay in New Orleans before I moved west...this week's hurricane has been an awesome reminder of nature's power, and an awful thing for folks to work their way through as I've called friends and my family back home. Here's a bit of Jackson Browne to go with the day:
Can you see those dark clouds, gathering up ahead?
They're gonna wash this planet clean, like the Bible said...
So hold on steady, and try to get ready, 'cause everybody's gonna get wet.
Don't think it won't happen, just because it hasn't happened yet. - Jackson Browne
September 10, 2004
Hitched: You heard that Christine Mandybur and Michael Martz got married weekend before last? Congrats to you both!
Date: Breathless reminder - put it on your calendar now! You gotta vote on Tuesday (or by Tuesday if you're doing the absentee thing)! Make a note! Don't forget!
And remember to vote YES for Island Rec!
Quote: "Ideas may be as thoughts, made criminal or miracles. Be sure the ideal is proper. Follow that irrespective of outside influence. Know self is right, and then go straight ahead." - Edgar Cayce, from his life readings.

Remembering: Tomorrow's the third anniversary...here's a note from the Chamber of Commerce:
Please join in a solemn Memorial March on Patriot Day to remember those who perished, those who tried to save them and those left behind.

This Saturday - depart from Friday Harbor Inn at 8:15am, then proceed down Spring Street to Memorial Park. Reverend Mark Henslee will offer a prayer, followed by the national moment of silence a 8:46am. The service ends with the sounding of "Echo Taps." All islanders and visitors are invited to participate!

Meanwhile, Progressive Islanders for Regime Change are sponsoring a thoughtful, reflective event:
Noted author Roger Morris will be the keynote speaker at the "Imagine: Fear to Hope" event Saturday, September 11 at the San Juan County Fairgrounds from 5-8pm. Progressive Islanders for Regime Change is putting together the free event which includes Helen Machin-Smith and Dan Mayes reprising "The Peacenik and the Warmonger" and offering other satirical material.

Charles Silverman, SJC Democratic Party Vice Chair, will read a Memorial to 9/11. Vietnam veteran Mike Vouri will deliver The Last Good Word.
Here more from the San Juan Islander.
Dance: Ann Harris wrote to ask me to tell you about a cool family event tonight:
Ian-- It's been exciting to see a new marimba band, Katura, on the island. They started performing together this summer and you may have seen them at The Fair, Roche Harbor, the Courthouse and Funk and Junk.

Could you let folks know about this? Katura is having a dance at the Grange this Friday and the following are the details:

Katura: Marimba & Drumming at the Grange on Friday, September 10th. Opening with Drum Heads at 8:00pm. $5.00 Per Person/Families $10. No Charge for Children under 10. Katura members include Margie Smith, Daryl Bacon, Devin Smith, Credence Ross, Benjamin Ross, Cynthia Elliott, and guest performers Deborah Johnsen and Gordon Elliott

Best, Ann

September 8, 2004
Weather on the way: As we read about all the commotion & storms in Grenada & Jamaica today, and Florida last week, it's easy to think we're getting off easy with all that with all these sunny days. But... my construction friends tell me we have buckets of rain on the way here, by the weekend. It's not just autumn & time to get the sweaters - gotta get the rain gear, too.
On the prowl: You knew the 2004 Catwalk, which is the Catspaw Foundation's fundraiser, is this weekend, right? Here, read all about it.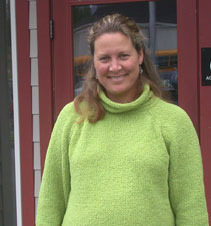 School gets going: Today's the day the Spring Street School kids return to school; the public schools got underway last Wednesday. FHHS Marilyn Luckman told me Saturday she thought things were off to a smooth start, as did art teacher Ann Kiernan over at the elementary school.
Quote: "If I had known how good my fifties were going to be, I'd have gotten there long ago... I have been given so much: a life full of texture and color, wonder and surprise. The fact that I'm still able to live in a meaningful, productive way -- for that I am most grateful." - Phylicia Rashad, actress

Texture and color, wonder and surprise on the island: Friends of the San Juans' Director Stephanie Buffum (left) is in the countdown phase for her baby, expected sometime mid-month. She's got the new mom glow... She and the staff just re-located from their old office on Guard Street to the Technology Building on Mullis Street, upstairs looking across at Marketplace....
Guitar teacher & jazz whiz Scott Spadafora's off to Montana for a vacation for a couple of weeks....it was fun to see Betsy & Wawan Ridwan this weekend with their girl Iya, which might be spelled wrong but that's how ya say it. She's getting more and more mobile & running around. Wawan's window washing biz is taking off, too....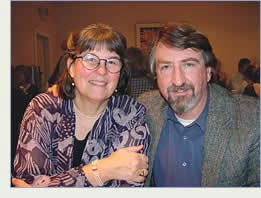 Virgin Island connection - seems like there are a lot of folks who made their way here from there. Kim at the Chamber of Commerce office used to live there, as did Robbie from the Sweet Retreat. Maybe that's where they got their sunny dispositions. Meanwhile, Megan from Pelindaba's been seeing a fellow there for the past six months or so, and Ian Walt was born there.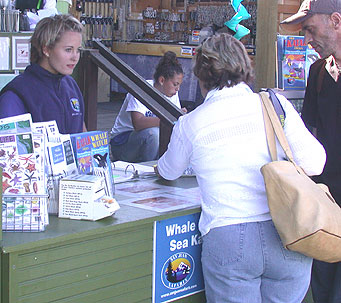 I ran into Robin (right) and Robert a couple of days ago and she asked me to look at her new website, which she made herself after learning HTML (that's techspeak for "the hard way"). I couldn't be more proud of her - the site (www.robinatkins.com) is clean and clear as it describes her love affair with beads, which is beginning to get her some notoriety as well as gigs talking about them. She also laid out her books on her own as well, and you can tell she has a real artist's eye. Speaking of which, take a look at Robert's photographs on HIS website. Pretty cool.
There are quite a lot of neat people who come to the island to work for the summer, then move back to their regularly-scheduled jobs or school. One of 'em is San Juan Safaris' Margo (left), who has worked cheerfully down at the harbor greeting people all summer. Little known secret: She's one of the best air hockey players in the Western Hemisphere. I'm not just saying that because she clobbered me.
Relax: I was throwing out some stuff in the medicine cabinet the other day, and noticed on the side of an old bottle of Nytol Sleep Aid --"Warning: May cause drowsiness."
Back: It was great to run into Don & Bobbie Weisner this weekend...they used to own Trumpeter Inn in the time before Mark & Aylene bought it three years ago.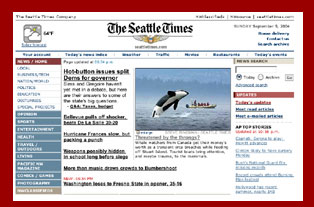 They were up visiting from California upon the occasion of Dick & Cathy Robinson (they used to own Hillside House B&B in town) coming back to town for their daughter Megan's wedding to Chris Rogers. Bobbie said it was a beautiful wedding, and Don says it's great to come back to the island after so long away.
Whales in the news: There was a front page story in the Seattle Times this weekend which explored the varying views about the effects of people watching whales off the west side of the island and around the Sound. I've heard a range of thought, study, passion, and emotion regarding this, which you can get a feel for by reading the article. See what you think.
More back: Word on the street is that Tom & Julie who used to run the Bistro in the back yard of the Elite Hotel (now called Friday's Historic Inn) are ready to give it another go, this time on Web Street. We'll let you know when they open, and then we'll go get pizza. Sure was good....
One last thought: The Union of Concerned Scientists and the Rainforest Action Network have each addressed the issue of species loss, which leaves us all poorer. Take a moment to see what they say. It's easy to get caught up in the news of the day and forget that protecting our life-sustaining earth is an important, often-neglected job, too.
Quote: "Saint George killed the last dragon, and he was called a hero for it. I've never seen a dragon, and I wish he would have left at least one. Saint Patrick made a name for himself by running the snakes out of Ireland, leaving the place vulnerable to rodent infestation. This business of making saints out of men who exterminate their fellow creatures has got to stop. All I'm saying is, it's starting to get a little lonely up here at the top of the food chain." - Excerpt from the book "The Big Picture," by comedian A. Whitney Brown